Welcome weary traveller... to the musical hall of Gandalf's fist!
Home to the Progressive Rock outfit from the UK.

Seriously, Cheers for checking us out.
While you're here, take some time to look around and listen to our stuff. If you're a bit confused, (and hey, aren't we all?) you should probably go forth and read the "What the Blazes Is Gandalf's Fist?" section.

Since we're being nice and friendly young Gents, why not help yourself to some Free Music? You can get your grubby cyber-mitts on "Uprooted" - a fan-taster EP that should give you a good idea of what we're all about, and it's available right now for zip-all!!

Aside from our acclaimed 3-CD opus "The Clockwork Fable", which is now available for Order, 2014 saw us release our fantastic album "A Forest of Fey" which we're immensely proud of! It features some fantastic guest contributions from some very special musicians - click here to find out more, or click here to get it ordered!

Previously we also  released a  prog-tastic medieval space rock opus: "A Day in the Life of a Universal Wanderer" - it's a stonking good listen in is own right so why not Click here for more details?

Our previous albums "From a Point of Existence" and "Road to Darkness" are out now via a range of digital download sites as well occasionally on CD via our website and we're fairly skint after financing the recording so if you could treat your prog-deprived eardrums with our unique brand of musical shenanigans we'd most certainly raise a flagon of mead in your excellent honor...
...And not many bands would do that, not even Lionel Richie and I bet he blinking well loves mead.

We've also released an EP "Songs from the Solway" and you can still get your grubby cyber-mitts on it from iTunes and similar invisible record stores.

If your new to Gandalf's Fist then check out our Discography Page for more info, here you'll find out all of the things we've released, so where better to start than the beginning.
If you want to have a bit of craic and banter, just drop us an email, and make sure you take a look at our face, on our Facebook Page. And if you're really curious what we've just had for breakfast, you can now invade our privacy by locking your surface-to-twitter missile onto @gandalfsfist.

Cheerio,
The Lads from Gandalf's Fist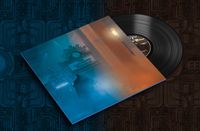 The Gandalf's Fist Music Store is open for business! 

Featuring CD versions of our albums and Music as well as Links to where all you MP3 fanatics can launch iTunes to! (We're sure you know that already!)
Our music is available through a wide array of Digital Download sites, as well as Itunes and Amazon.com!

We spend a lot of time making sure our music is ready to rock your socks off in a range of formats so if digital downloads aren't your bag then grab a CD album today!