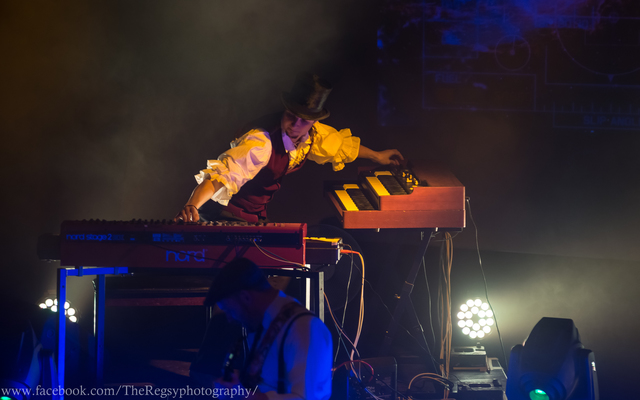 2017 - Present

Instruments:
Keys

Bio
Despite showing a natural affinity for keyboards since he was tall enough to clamber onto a piano stool, it took Ben years of experimentation with other instruments before discovering Jon Lord and Deep Purple finally settled him behind a Hammond Organ. Still, many bands he joined were less convinced of
the idea of a keyboard player in a rock setting, and for the next few years he used the trick of auditioning on drums and then gradually switching to keyboards while no-one was looking to secure his position in the line-up.
Growing up on a dubious diet of 80's radio play and James Bond theme songs, Ben knew he liked music but never felt the songs he was hearing were really for him until he was given a tape player and was able to start exploring on his own. Amongst a somewhat quirky collection based on the limited selection at his local library, Queen was his earliest musical obsession. Over time that was joined by Billy Joel, Rainbow, Genesis, and Mike Oldfield. Having always liked the longer, more varied tracks on albums it was inevitable that he would eventually discover and fall in love with the endlessly varied world of prog, though it took him many more years to find other musicians who would indulge and share his flights of musical fancy.
After years of working essentially as a live musician, 2013 saw a change in direction with a busy period of recording. Over three years, he released five albums with Fusion Orchestra 2, Broken Parachute, Kashgar, and his own solo project Patchwork Cacophony. All this noise started to attract attention and a chance meeting on a radio show with Stefan Hepe lead to Ben being blackmailed/invited to join Gandalf's Fist's live line-up on keyboards. In 2017 he was promoted to full time member and Stefan burned the incriminating photos.
Favourite Albums:
Queen - Queen II; Deep Purple - Fireball; Mike Oldfield - Amarok; Lucifer's Friend - Banquet; Rainbow - Rising; Jeff Beck - Blow by Blow; Billy Joel - Turnstiles
Ben is also co-founder and keyboard player and producer of Fusion Orchestra 2; keyboard player, vocalist and co-bassist in Broken Parachute; and a one man multi-instrumental assault in his own solo project, Patchwork Cacophony.

Links for above bands:
www.fusionorchestra2.com
www.brokenparachute.com
www.patchworkcacophony.com