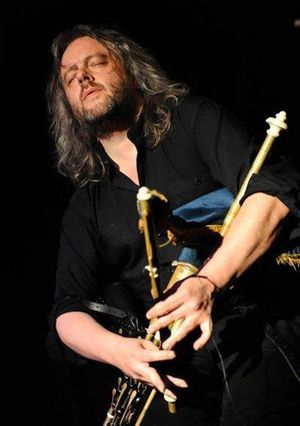 It's fantastic that we've been able to announce that playing the bouzouki, whistles and low whistle on a number of tracks is  multi-instrumentalist Troy Donockley.
I've been a great admirer of Troy's work for a while, not only with his band "The Bad Shepherds", but also the amazingly atmospheric session work he's done with the likes of
Mostly Autumn
and
Nightwish
(of which he is now a full-time member).
In the past Troy has played with the likes of
Maddy Prior, Barbara Dickson, Roy Harper, Magenta
and
Ayreon
to name but a few! Movie buffs will also probably recognise him on the soundtracks to 2010's
Robin Hood
and 2011's
Ironclad
.... and now you will be able to hear him on the upcoming
Gandalf's Fist
record! Brilliant!
Troy was actually born in Workington, West Cumbria, a stones-throw away from my own upbringing - and the stomping ground for many a fateful evening over the years! He is a properly sound bloke and it truly has been a pleasure to work with him! 
For our recent press release, Troy commented:
"I was delighted to be asked. It's great to see some honest progressive rock coming from British West Cumbria!"
 - and I have to say the feeling is mutual - we're delighted that he accepted!
Troy has performed some great parts for the record using his one-of -a-kind low whistle which really has a trademark and haunting sound all of it's own... goosebumps! As well as this he also performs the Cumbrian Bouzouki (yes there is such a thing!) on a very special track which also features Dave Oberlé from Gryphon (talk about a prog/folk supergroup right there!!)
Looking forward to showing off what we've come up with, in the meantime check out Troy performing with Nightwish in the clip below & make sure you check out his brilliant solo albums via his
website!
Cheers,
Dean