I recently wrote a short piece for Malcolm Dome summing up my appreciation for Pendragon's first album 'The Jewel' in an issue of 'Prog' Magazine. Which was a great privilege... unfortunately for a non-celebrity such as myself, literary stardom was not forthcoming since they accidently used a picture of Luke instead of me: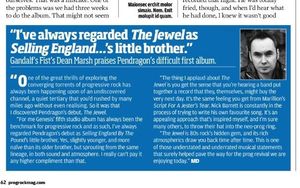 No matter. What was important is the high regard in which I held that album – but for me one of the greatest things to happen to Pendragon was Clive Nolan to join in 1986 and remain the keyboard mainstay ever since then.
Clive, also plays in the fantastic 'Arena' with other album contributor John Mitchell and has also played with Shadowland, Strangers on a train, Oliver Wakeman as well as guest appearances with the like of Ayreon, Dragonforce, John Wetton… and now Gandalf's Fist!
I'm overjoyed with Clive's contributions to the record he has been awarded Classic Rock Society Best Keyboard Player award in the years: 1995, 1996, 1998, 2005, 2009, 2010 and 2011 – and you can see why – he really did know instinctively what to do with the track we worked on!
Clive really is a sound bloke – as well as adding some texture and atmosphere to the track in question (which is probably the most 'space rock' song on the album) he put down an amazing synth solo that soars through the closing stages of the track.
Can't wait for everyone to hear these collaborations – it's really taken the project to the next level!!
Also, please show your support by going to see Clive's latest musical
'Alchemy'
– see you there!
Cheers,
Dean