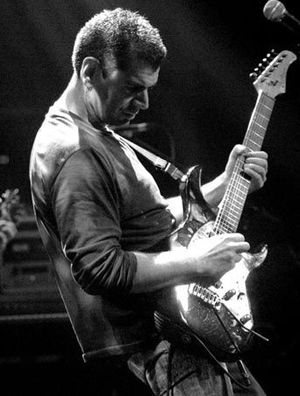 In West Cumbria everyone talks about It Bites – the fact that they were originally from Egremont and usually someone in the pub knows at least one member of the band.
For me,  John Mitchell's introduction to the band was perfect – I think the records they've released since then are really in tune with my tastes, and incidentally, I think that Francis Dunnery's solo work since then has been exemplary – so best of both words, but hey that's just my opinion!
So  - I'm absolutely over the moon that John has been able to strut his stuff on this new Gandalf's Fist record – I really liked the last It Bites record, I mean REALLY liked it - and his stuff with Arena is well… awesome!
Putting aside his guitar skills, John has contributed lead vocals to what I would surmise will be the closing track on the album – and let me tell you, it sounds great! The track itself is quite melancholic with a sort of Floyd-meets-Queen-meets-Genesis kinda vibe before switching into hard rock via a folk interlude... nice!
Lyrically, the track ties up the 'story' of the album to its conclusion as well as carrying a bit of baggage from my recent visit to my childhood home – as such, a fine balance between power and emotion was required on this one and John has managed to do that with aplomb - and he's a canny bloke to boot!
Final mixing is drawing nearer so I'm hoping we'll have some samples for everyone to listen to soon!
Dean