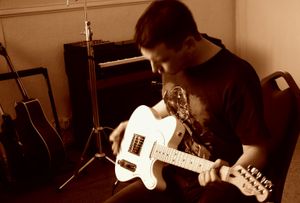 As every year swings round and I start to think about creating a new Gandalf's Fist record it's always going to be a mystery as to what direction the record is going to take. We've done everything from Neo-Prog with
"Road to Darkness"
, Prog-Metal with
"From a Point of Existence"
and even Sea Shanties with
"Songs from the Solway"
. I would say it wasn't until 2013's
"Day in the Life of a Universal Wanderer"
LP that all of those individual elements came together to create a cohesive piece in its own right… The point in which we discovered what the "Gandalf's Fist" sound was!
Of course, there were hints all along. If you trace a line from the song
"Master and the Monkey Pt I"
through
"Council of Anderson"
,
"Regency Rascal"
and finally
"Gathering of the Clouds"
you can see that sound has always been there, waiting, biding its time to be developed, embellished.
With last year's
"A Forest of Fey"
, we took that sound and added some folky undercurrents, something we had outlined as our starting point from the start, and as such it informed the concept of that particular record.
This time round we approached things slightly differently. Whereas before we would see where the songs were taking us and start to mold our stories and conceptual ideas around demos and works-in-progress, this time we started with the narrative.
In April, actually, on the morning of my wedding, Luke (the on-call best man) and I pretty much bounced the world and story of the upcoming record off each other while we were waiting for the women-folk to get ready. The gears were set in motion. Everything that has followed has stemmed from that moment and has ultimately informed every note and lyric that has been played since. Once we reveal the concept, and release some samples I'm sure that will become abundantly clear.
In terms of pre-production, let me say this: it was dense. The amount of "world building", characterisation and narrative thought that has gone into this would rival many a novel, or even movie, for that matter. Countless hours creating the layers and structures that underpin the story of the record, most of which will never be visible, but I'm confident in doing so we've created something with real depth and character…
Yes I am being deliberately vague… all will be revealed soon enough!
In terms of musical direction, there are a few key elements that you can expect. Firstly, there are some rather tasty, lengthy compositions on here, in varying styles and palettes. Secondly, there was one thing that I was very keen to bring to this record, and that was the
"RIFF"
! Strangely, it seems riffs have never really been a key component of this genre of music, with the focus being, quite rightly, on virtuosity, atmosphere and melody. Well, we're bringing it back… Meaty Riffs that sound straight out of Tony Iommi's Crunch Kitchen and I can't wait for you to hear what we've been cooking up!
More soon,
Dean