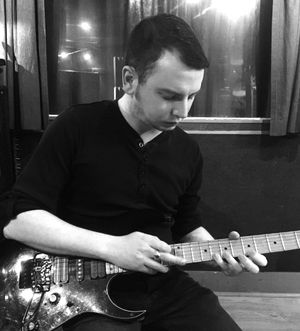 What is an album in any case?
In an ever-changing world where we are constantly having to think about how we consume music, it's about time we really had a think about the other side of the coin. 
So, we're producing an album. It's brand-spanking new and it's exciting, yet strangely there's a sense of pressure, knowing that people actually listen to and, strangely, like what we've done in the past.
I'm fine with that. I work best under pressure.  
My outlook has never really changed with anything that I've created musically, I write records that I'd like to (and do) listen to myself. So here I am, writing tunes for the new album and really starting to notice one key change... Production value. With each record our sound has become more refined and, dare I say it, "professional".  
At this moment, it hits me. I realise what we've actually achieved. Something we've been doing all along, something that has become a mission statement without us even realising it:
Independence.
Being an "indie" musician is something that is banded around all too commonly in the cyber-age we live in, with varying degrees of applicability. More often than not, it's become interchangeable with "unsigned". 
That's not technically the same thing. 
Many, if not most, unsigned musicians will, for example, utilise professional recording studios, sound and mastering engineers to produce their product. Perhaps even utilise an indie record labels for disc pressing and distribution. 
That's because most musicians, believe it or not, are sensible humans. 
The lads from Gandalf's Fist are not sensible Humans. 
From start to finish we:
Write all the songs, record in our own homes in ramshackle studios, mix all the tracks ourselves, master the record, write and distribute press releases, tackle advertising and promotions, film and edit music videos, do our own photo shoots, assemble all the artwork, put together templates for printing CDs/Booklets, pay for CD's to be pressed, send out promo CDs and finally, post the result out to you guys…
Phew!!
...The latter usually involving me heading down to the post office in my lunch hour with a carrier bag filled with Fist Merch! 
That's not including ongoing tasks and costs such as juggling our websites, social media and doing tax returns… no small task, considering each and every one of us also has full-time jobs! 
It's a miracle that we ever get anything done, and even more of a miracle that the new record is a) the biggest thing we've ever done (by a long shot!) and b) sounding leaps and bounds above our other productions. 
I suppose, partially, this is to do with our growing experience in audio-production. Every year we get better, learn new tricks and hone our production skills. More significantly though, with each year we invest some of the money from our CD sales into buying better gear!! With our first experiment we started off with nothing apart from a knackered guitar and a dodgy pre-amp. But that was years ago. For this record alone we've invested in high-quality digital pre-amps, a brand new Strat, a range of studio quality compressors, delays and reverbs, studio monitors, an octave mandola and a heavy dose of bloody rock n' roll! 
So there you have it, our mission statement: Do everything ourselves, make it better than last time, go to the pub, get pissed. 
God knows how long we can continue under that banner, I'm sure the arse will fall out of our little independent experiment at some point, but, until then, I'm proud of what we've achieved and it's a testament to what you can do if you put the graft in.
Hopefully you'll hear all that hard work in the finished album, but even if you don't, I'll know it's there ;)
More new soon!
Cheers,
Dean