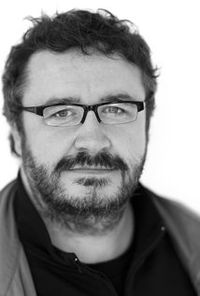 We're chuffed to bits to announce Mark Benton will be voicing one of the characters on our upcoming LP "The Clockwork Fable" .
Playing the spoken words of "The Lamplighter" character, Mark Benton has shown his versatility on television, on stage, on the big screen and now on a Gandalf's Fist triple concept album. 
Appearing on TV in Dr Who, Silent Witness, Early Doors, Land Girls, Britannia High, and Waterloo Road, as well as in such films as Career Girls, Breaking and Entering and The Imaginarium of Doctor Parnassus, Mark is a great actor, and more importantly, a top bloke! 
Narrating the tale as the wistful Lamplighter, Mark really knows and loves his Prog, making him the perfect fit for this role! 
We had a great laugh recording the part and Mark has been instrumental in getting this album to the level it is - so we'd like to send him a massive thanks! We're proud as punch with his performance and with his great sense of timing he really has helped bring the world of Cogtopolis to life!