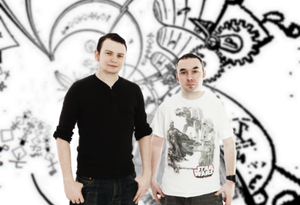 Luke's Thoughts: 
The world of Cogtopolis was formed from an idea that we created over the course of 6 months last year. The first character we had was the Lamplighter, the subject of our pre-christmas teaser song. In a way we created a world around this character, cogs and all, Tinker, Eve and the clockwork boy all soon followed.  
Cogtopolis is a city beneath the earth, which we have created, with it's own religion, language and geography. Unlike previous albums it is not based on an existing idea or story, this is a 100% original idea formulated by myself and Dean, mainly the morning of Dean's wedding, but also in the ale houses of Ireland. While creating this story we tried to stay away from clichés and formulaic story telling.  
Also unlike previous albums, the story is not just told through music, but fleshed out into a fully fledged script. The decision to do this was not taken lightly. I can't think of anyone else doing this kind of album, especially not an independent group with a marketing arm consisting only of the band members themselves. I couldn't imagine a record label signing off on what is a crazy idea.  
Yes, we are not so far up the pretentious Prog road that we can't see what a risk this album is. But hopefully once you've heard who we brought on board as spoken and guest vocals, you'll understand the level of quality that we have put into this project and you'll love the world of Cogtopolis as much as we do. 

Dean's Thoughts: 
For me, The Clockwork Fable, Cogtopolis and all its inhabitants is much more than our upcoming album; it's a collaboration between some of my best friends. 

I consider the previous albums where I'd write all of the music, and it was pretty much a one-man show when it came to song writing. But, the most enjoyable part of Gandalf's Fist is when Luke and I quaff a few ales and work on lyrics and recording together, or when Chris and I have a good old laugh recording his bass parts. Even though that has, historically, been an infrequent part of the process, it is pretty much the only reason that Gandalf's Fist still exists to this day. 

The fact that Luke (in full-best man mode) and I plotted out this album over a tentative coffee in the hours before my wedding speaks volumes. What has now become an epic 3-part concept album, far outreaching the ambitions of many bands that have far superior resources to our own, began quite simply as two mates shooting the shit about a cool story idea. Equally, what a great laugh it was, whiling the way a few evenings around the kitchen table with a couple of jars of whiskey, Chris and I scribbling down some of the more surreal, Monty-Python-esque scenes and then acting them out in as many silly voices we could imagine. 

As Luke says, this is a bold statement, I'm quite sure some people will be baffled by the structure and format of this piece. They might not 'get' it. 

But I care not one jot. 

It is different. It is trying something new. It is Progressive. 

That said, even if nobody outside Luke, Stefan, Chris and I like this record, and it falls flat on its arse, I will take away surely one of the most rewarding creative experiences of my life. 

And that, in and of itself, has made the adventure worthwhile.