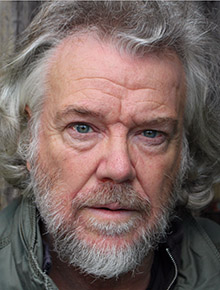 Bill was born and bred in the North-East town of Middlesbrough, close to the North Yorkshire border, and trained at the Guildford drama school in the early Eighties. 
He has been seen on television many times, most recently in Vera with Brenda Blethyn, the hugely popular drama Broadchurch with Olivia Colman and in the multi award-winning Downton Abbey opposite Phyllis Logan - as well as starring in Alan Bleasdale's Monicled Mutineer with Paul McGann and Hallmark's Blackbeard with Stacy Keach and Jessica Chastain and has recently finished filming Scratch, part of the BBC's Moving On series directed by Reece Dinsdale and, most recently, Dark Angel directed by Brian Percival. 
His film credits include The Tournament with Robert Carlyle, In Our Name with Joanne Froggatt, United, the story of the Munich air disaster, with Jack O'Connell and David Tennant, Harrigan with Stephen Tompkinson, Extremis with David O'Hara and Lady Macbeth with Fiona Pugh. 
Amongst his many Theatre credits are Mickey in the West End production of Blood Brothers, alongside Stephanie Lawrence, Tony Harrison's Trackers at the Royal National Theatre, Pastoral at the Soho Theatre and, most recently, Hobson's Choice at Regents Park Theatre directed by Nadia Fall. 
…And he makes an excellent Shepherd's Pie :)

Bill joins the cast playing, in the first instance, Armistead, who is the Northern equivalent of Ben Kenobi in Cogtopolis! He gave a really great performance with a great comic edge and delivered some great improvisation and ad-libs! 

… So much so that Bill also tackled the role of the "Nightkeeper Spy", channelling his inner Ray Winston, that included undoubtedly our favourite scene in the piece, where the spy berates a clockwork child about festival supplies. Poor Boy. 

Bill is also a pretty crafty musician in his own right! So make sure you grab is stuff on iTunes. Check out this stunning little ditty of his: